News|Events|Links|Contact Me|Prints |Derriere le Miroir|Vintage Posters |Bindings |Manuscripts |Latest Catalogue
Graham York Rare Books



225 High Street, Honiton, Devon, EX14 1LB, UK.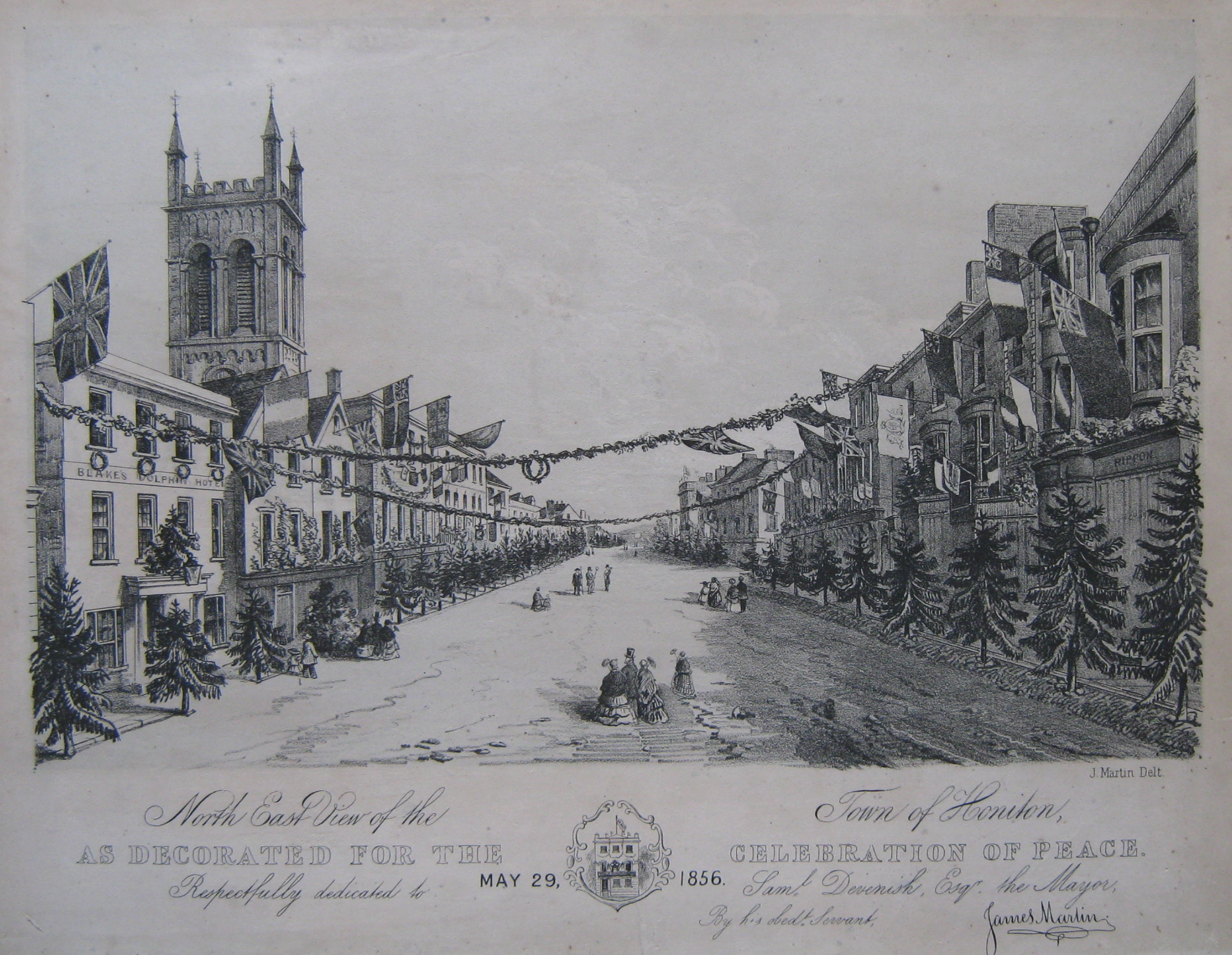 James Martin. NORTH EAST VIEW OF THE TOWN OF HONITON, AS DECORATED FOR THE CELEBRATION OF PEACE. MAY 29, 1856. Lithograph on board, image size 12 and a half inches by 8 inches. Good condition. [Reference: Somers Cox 1187, although incorrectly titled South West view]. A fine view of the High Street with none of the parking problems encountered today...

£60.00.




Established in Honiton, Devon, in 1982, I buy and sell rare and out-of-print books on a variety of subjects. I am the leading specialist in books about Gypsies and George Borrow, and Spain.

I am a member of the ANTIQUARIAN BOOKSELLERS' ASSOCIATION, and adhere to their code of conduct, the INTERNATIONAL LEAGUE OF ANTIQUARIAN BOOKSELLERS, the EPHEMERA SOCIETY and the PROVINCIAL BOOKSELLERS' FAIRS ASSOCIATION.

You can contact me by telephone 01 404 41727, mobile 07831 138 011, or email books@gyork.co.uk
If you cannot visit the shop, which is open Tuesday to Friday 9.30-5.00, Saturday 10.00-5.00, closed Sunday and Monday

CLICK HERE TO SEARCH OUR DATABASE,

and if you find anything interesting you can order securely online.





T. Sutherland (Engraver) after the original by T. Fidlor. KNOWLE COTTAGE, SIDMOUTH, THE RESIDENCE OF T. L. FISH, ESQ. Aquatint, published by John Wallis at the Royal Marine Library, Sidmouth, 1823, hand-coloured, image size 9 and a half inches by 6 inches. Good condition. [Reference: Somers Cox 2551]. "This truly romantic Marine Villa is situated on a lovely eminence to the North of "Powy's Cottage", the residence of Miss Ridout, and "Woodlands", S. Newdick Esq. It was built by the late Lord Le Dispenser in 1810, and is a thatched building, forming nearly a quadrangle, and then contained forty rooms. The present proprietor T. L. Fish Esq. has considerably reduced their number and rendered the house in every respect more comfortable as an abode, while the improvements, and embellishments he has added, have rendered it undeniably, a picturesque and enchanting residence, A verandah which is two hundred feet above the level of the sea, and one hundred above the church tower, surrounds the principal, and eastern front of the cottage it is three hundred and fifteen feet in length, and nearly twelve in width, entirely supported at equal distances, by superb oak pollards, which are surrounded with ivy, woodbines, myrtles, roses, and flowering creepers, added to which, and round each of them, are circular flower stands, containing the choicest geraniums, balsams, and other tribes of exotics; the whole forming a splendid variety. In the present year, this verandah contains not less than between four and five thousand plants, most of which have flowered luxuriantly. Thirty-four splendid china vases contain the balsams, and form a grand collection. In the centre of the southern part and between the Drawing-room windows is a rustic seat, novel and striking, rising in a pyramidical form, and displaying the choicest geraniums and hydrangeas. Opposite this delightful seat is the upper lawn... [Anon. The New Guide to Knowle Cottage, 1840].

£75.00.


Find the shop on multimap.


Click on the links to have a look at some items of current stock,
including Prints and Paintings of Gypsies,

eighteenth and nineteenth century prints,

or some great Vintage Railway and Travel posters.

Visit my stand at forthcoming Book Fairs.



A gentleman's open air library ?

Or an open air bookshop ?





Or photos of Honiton Bypass under water on Saturday July 7th during the deluge that always accompanies a hosepipe ban.




News|Events|Links|Contact Me|Prints |Derriere le Miroir|Vintage Posters |Bindings |Manuscripts
Honiton Antiques Festival 2013
The Blue Vanguard Jazz Club