Latest Catalogue
News|Events|Links|Contact Me|Prints |Vintage Posters |Bindings |Manuscripts
Graham York Rare Books



225 High Street, Honiton, Devon, EX14 1LB, UK.


The shop is open from Tuesday to Saturday 10.00am until 5.00pm.

The elaborate and expensively-produced art journal "DERRIERE LE MIROIR" appeared in print from 1946 to 1982. Published by the French art dealer, collector and publisher Aime Maeght, it ran to two hundred and fifty issues. Galerie Maeght, which opened in Paris in 1945, exhibited the work of distinguished contemporary artists, including Matisse, Braque, Leger, Chagall, Miro, Kandinsky, Giacometti, Ubac, Bazaine, Calder, Tapies and many others. The magazine always appeared in the same format (38 x 28 cm) and included numerous original lithographs printed in high quality colour by the above mentioned artists as well as a great many reproductions. Poets and men of letters such as Louis Aragon, Samuel Beckett, Paul Eluard, Jacques Prevert, Raymond Queneau, Jean-Paul Sartre and others embellished the work with previously unpublished texts. Many of the lithographs are sought-after collector's items today, and often offered for sale framed. I have a number of the original magazines for sale and a couple of posters for their exhibitions.


Scarce Original Poster


After Joan Miro. GALERIE MAEGHT PARIS. TERRES DE GRAND FEU. MIRO ARTIGAS. 520mm x 740mm, printed by Maight Editeur - Arte Paris, 1960s, slightly creased.
Original posters from this period are very scarce.
GBP 115.00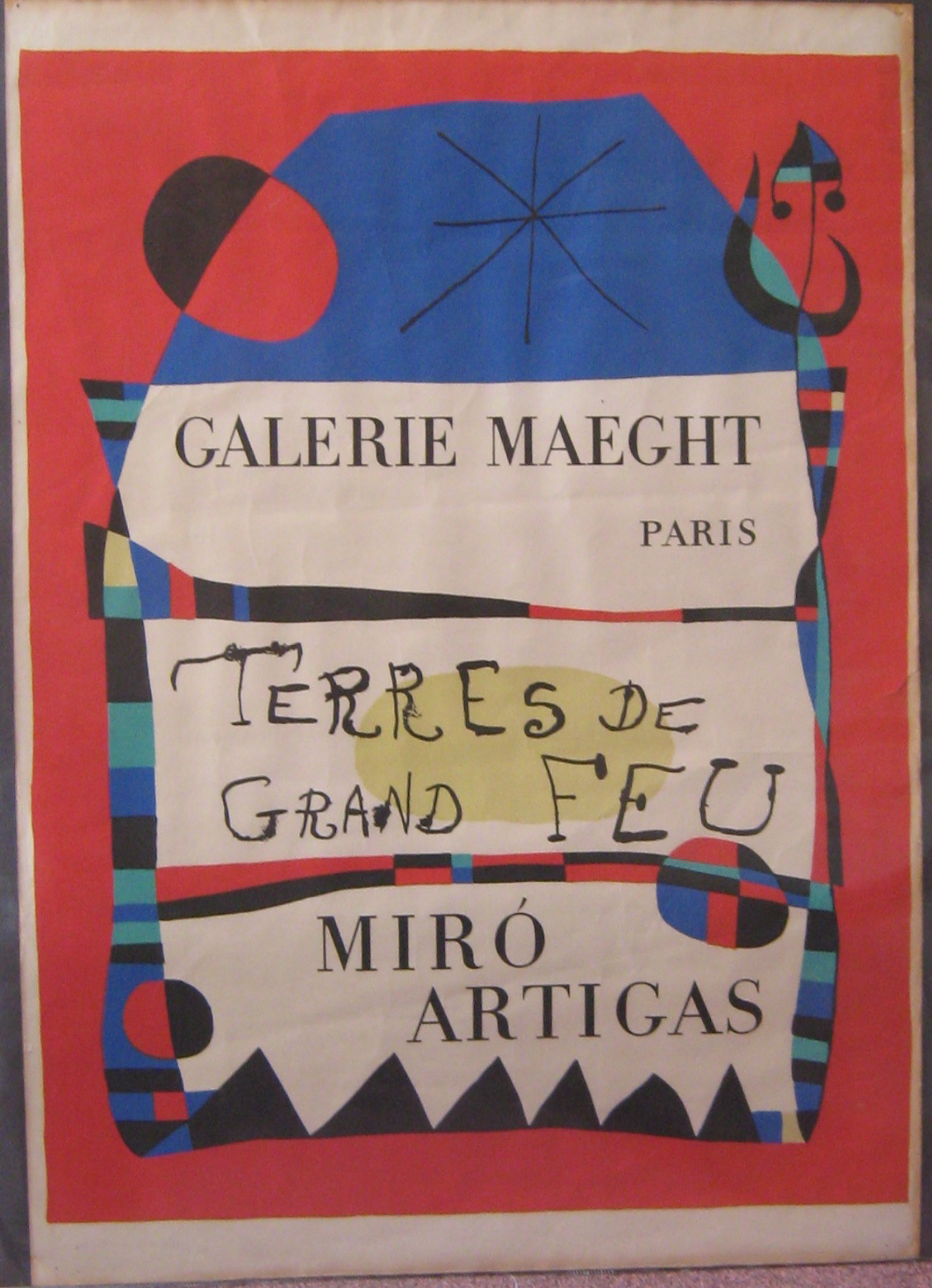 To find the shop click here.


Click on the links to have a look at some items of current stock,
including Prints and Paintings of Gypsies,

eighteenth and nineteenth century prints,

or some great Vintage Railway and Travel posters.

Visit my stand at forthcoming Book Fairs.



A gentleman's open air library ?

Or an open air bookshop ?





Or photos of Honiton Bypass under water on Saturday July 7th during the deluge that always accompanies a hosepipe ban.





News|Events|Links|Contact Me|Prints |Vintage Posters |Bindings |Manuscripts



Honiton Antiques Festival 2014

The Blue Vanguard Jazz Club