News| Events| Links| Contact Me| Vintage Posters | Bindings
Graham York Rare Books




225 High Street, Honiton, Devon, EX14 1LB, UK.
Tel: 01404 41727 or 07831 138 011


The shop is open from Tuesday to Saturday 10.00am until 5.00pm.

John Fullarton's Handbook

Richard Ford.

HAND-BOOK FOR TRAVELLERS IN SPAIN, AND READERS AT HOME. DESCRIBING THE COUNTRY AND CITIES, THE NATIVES AND THEIR MANNERS; THE ANTIQUITIES, RELIGION, LEGENDS, FINE ARTS, LITERATURE, SPORTS, AND GASTRONOMY: WITH NOTICES ON SPANISH HISTORY. PART I. CONTAINING ANDALUCIA, RONDA AND GRANADA, MURCIA, VALENCIA, CATALONIA, AND ESTREMADURA; WITH TRAVELLING MAPS AND A COPIOUS INDEX. [PART II. CONTAINING LEON, GALLICIA, THE ASTURIAS, THE CASTILES (OLD AND NEW), THE BASQUE PROVINCES, ARRAGON, THE PYRENEES, AND NAVARRE. WITH TRAVELLING MAPS AND A COPIOUS INDEX.].

1845, London, John Murray, first edition, two volumes, pp xii, 556; vi, 557-1064, folding map of Andalucia mounted on linen and bound at rear of volume one, folding map of Spain bound at rear of volume two, the two volumes bound by Hayday in a very civilized full calf with green labels lettered in gilt, and stamped on the front paste-down 'T. Bosworth, 215, Regent Street'.£950.00

Bindings a trifle rubbed with some dark spots on the boards, the map of Spain with a couple of closed tears on the folds, as usual, otherwise a very attractive copy with an interesting association.

There are a number of ink and pencil notes in the margins, some of them signed J. F., and some of them quite detailed - particularly that relating to the gold coinage, thereby leading me to believe that the initials belong to Fullarton. One or two of the notes are very slightly obscured in the gutter of the binding, suggesting that it was bound after annotation.

John Fullarton (1780-1849), was an authority on currency, and was one of several correspondents offering Ford new and up-to-date material. [Robertson p.232]
With some irony, this copy was consigned to auction by the current (9th) Earl Bathurst, although there are no visible signs of this. Henry, 3rd Earl Bathurst (1762-1834), was Secretary for War during the latter part of the Peninsular War, and Ford wrote to Murray in October 1854 (Robertson, p.289), and 'protested the government's incompetence in carrying out the war:'
"Ever since the days of the Duke the sins of ministerial mediocrities have been washed out by the blood of brave men. Remember the siege of Badajoz and the shortcoming of Bathurst, the pig-tailed prig..."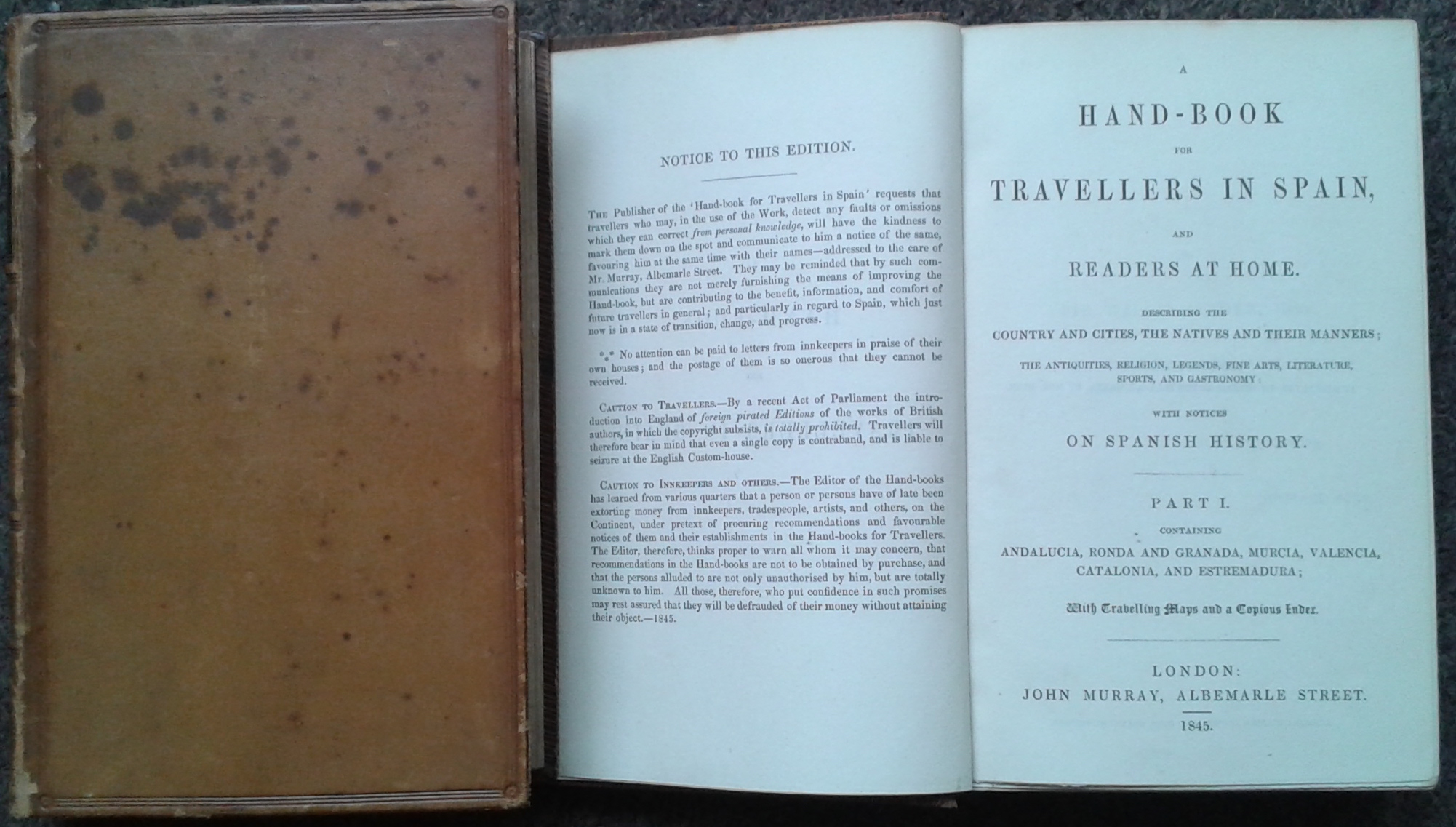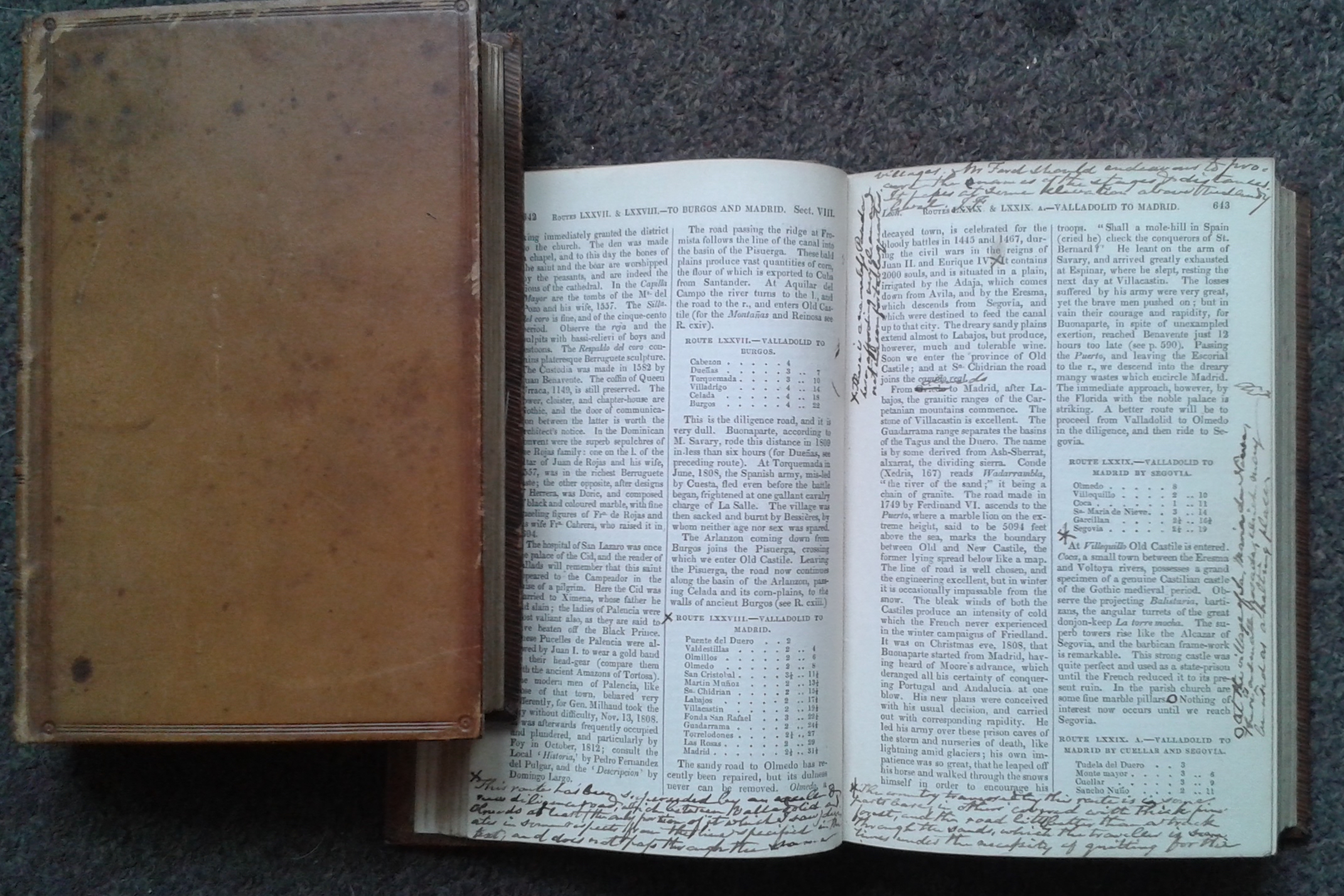 To find the shop click here.

Visit my stand at forthcoming Book Fairs.



Or search our inventory on Abebooks here





News| Events| Links| Contact Me| Vintage Posters | Bindings



The Blue Vanguard Jazz Club