News| Events| Links| Contact Me| Vintage Posters | Bindings
Graham York Rare Books





225 High Street, Honiton, Devon, EX14 1LB, UK.
Tel: 01404 41727 or 07831 138 011


The shop is open for business from Tuesday to Saturday 10.00am until 5.00pm.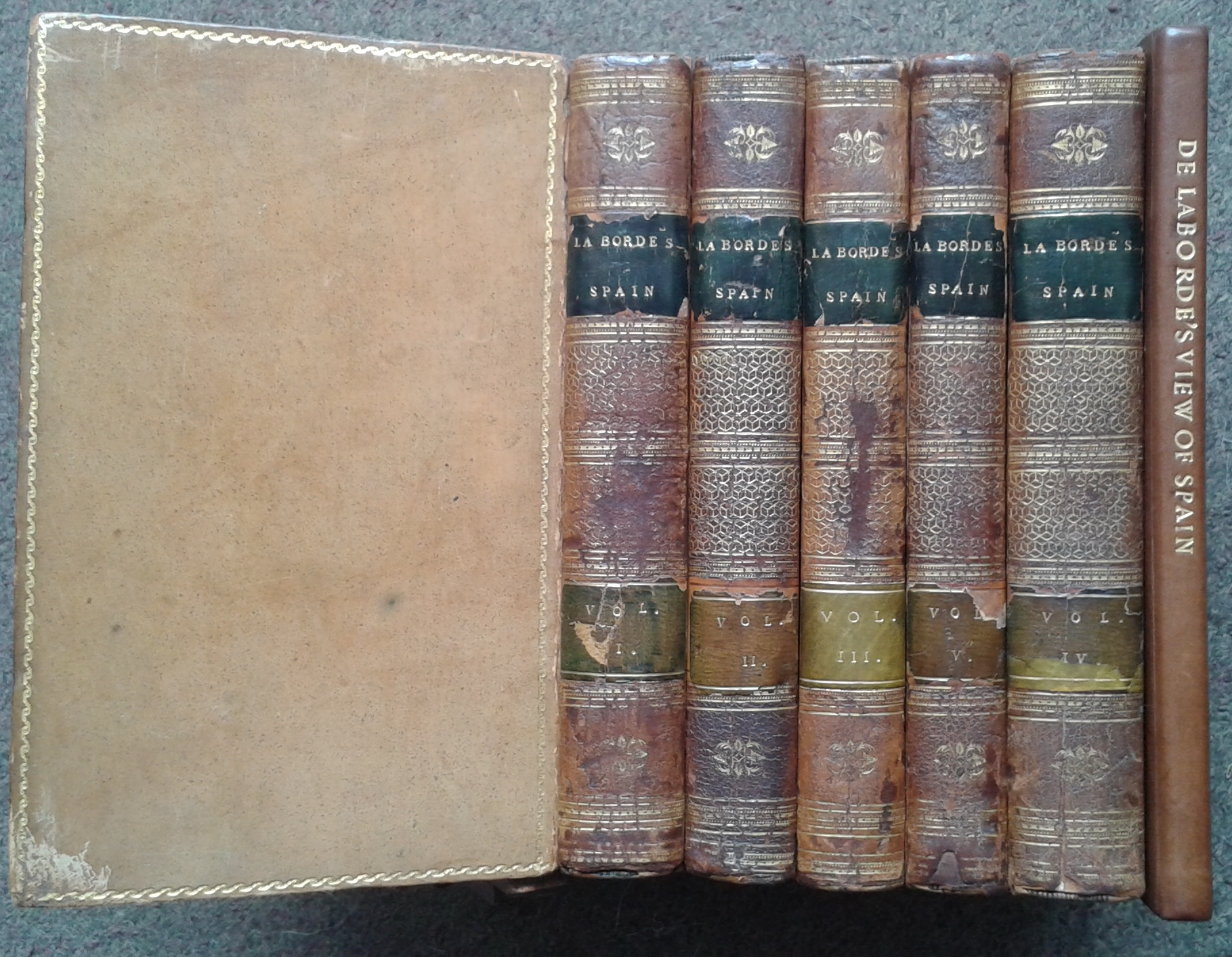 Alexander De Laborde. A VIEW OF SPAIN; COMPRISING A DESCRIPTIVE ITINERARY, OF EACH PROVINCE, AND A GENERAL STATISTICAL ACCOUNT OF THE COUNTRY; INCLUDING ITS POPULATION, AGRICULTURE, MANUFACTURES, COMMERCE, AND FINANCES, ITS GOVERNMENT, CIVIL, AND ECCLESIASTICAL ESTABLISHMENTS, THE STATE OF THE ARTS, SCIENCES, AND LITERATURE, ITS MANNERS, CUSTOMS, NATURAL HISTORY, &C.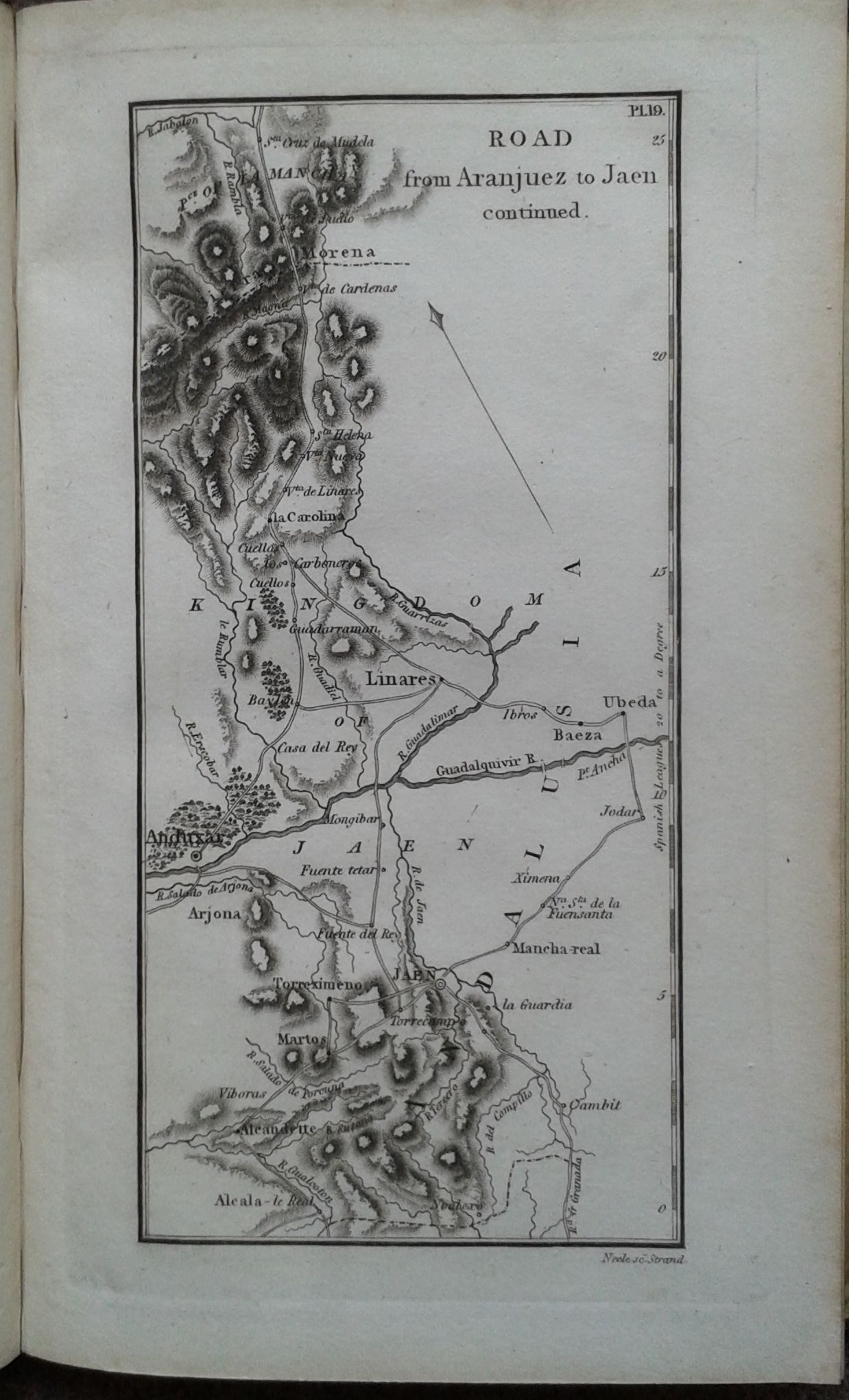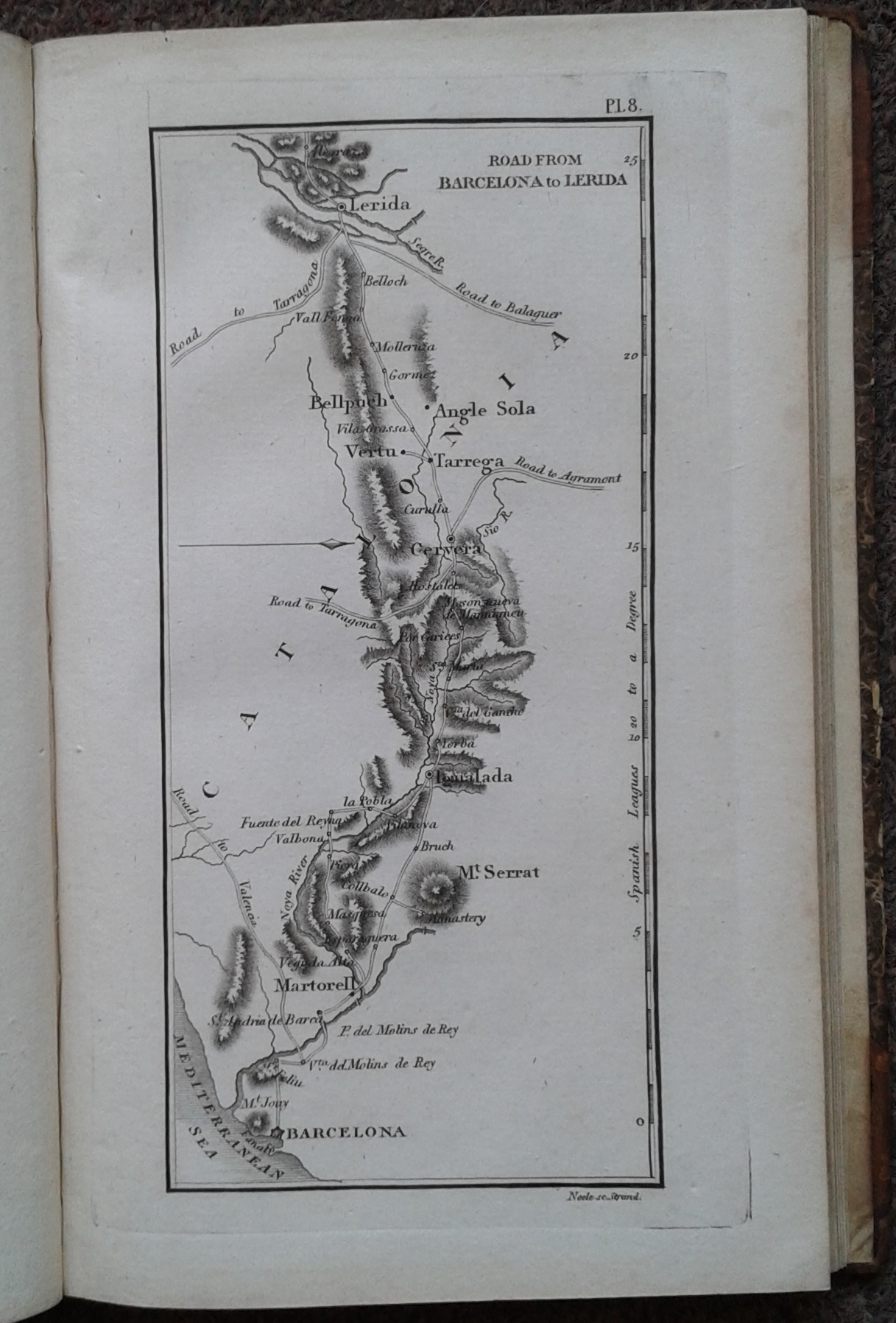 1809, London, six volumes including the atlas, ppclxxix + 386; vii + 511; vi + 482; vii + 574; v + 398; vii + 29 plates, full contemporary calf, gilt labels, atlas in a modern plain calf lettered in gilt.
GBP 750.00
"M. Alexander de Laborde, the author of the following work, is well known as an elegant scholar, and erudite antiquary, possessed of a highly cultivated taste, and extensive information on all literary and philosophical subjects...He was himself personally known to several Spanish families of rank and influence... To travel as our author has done, and explore with so much minuteness, a country so extensive, so abundant in objects to arrest the attention of the tourist, and withal so destitute of the requisite accomodation for journeying from place to place...The work itself possesses great intrinsic merit, and may perhaps be considered as the most complete account we possess of any country in the world..." taken from the advertisement by the English Editor (I wonder who that was).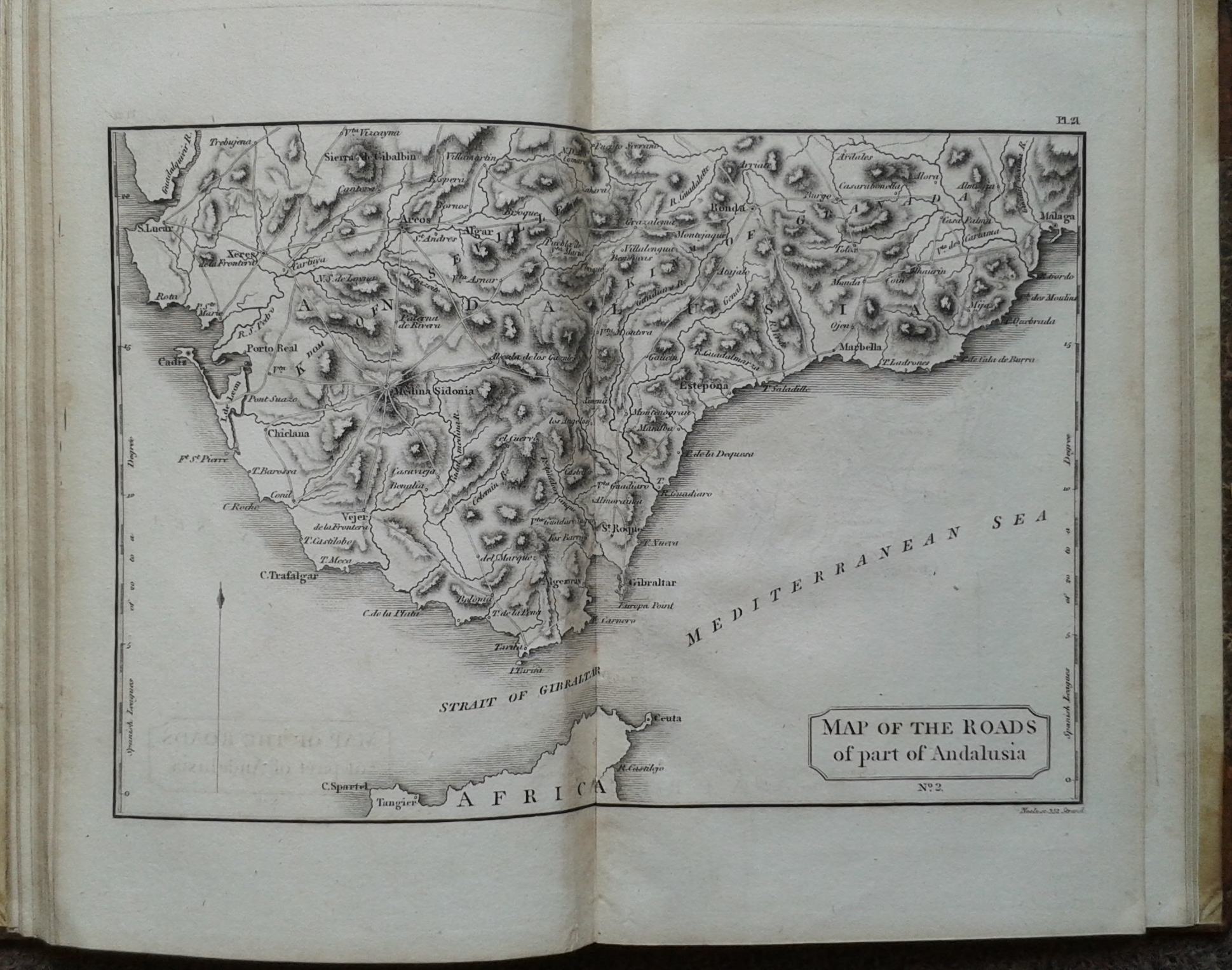 With the engraved contemporary bookplates of Mathew Wilson and Frances Mary Richardson Currer. Frances Mary Richardson Currer (1785-1861), book collector, born 3 March 1785, was the daughter and sole heiress of the Rev. Henry Richardson (1758-1784), who, a short time before his death, took the name of Currer upon succeeding to the estates of Sarah Currer after the death of his uncle. Her mother was Margaret Clive Wilson, only surviving child and heiress of Matthew Wilson of Eshton Hall, Yorkshire. After the death of her husband Mrs. Richardson married her cousin, Mathew Wilson. From her earliest youth Miss Currer was fond of books and reading. "She is in possession of both the Richardson and Currer estates," says Mrs. Dorothy Richardson in 1815, "and inherits all the tastes of the former family, having collected a very large and valuable library, and also possessing a fine collection of prints, shells, and fossils, in addition to what were collected by her great-grandfather and great uncle" (account of the Richardson family in Nichols, Illustrations, i. 225-52). "A Catalogue of the Library of Miss Currer at Eshton Hall, in the deanery of Craven and county of York," drawn up by Robert Triphook, bookseller, was printed in 1820. Miss Currer's library was chosen with a view to practical usefulness, but it contained many rarities. It was rich in natural science, topography, antiquities, and history. There was a fair collection of Greek and Latin classics. The manuscripts included the correspondence (1523-4) of Lord Dacre, warden of the east and middle marches, the Hopkinson papers, and the Richardson correspondence. The books were all in choice condition, many with fine bindings. She was an extremely accomplished and amiable woman, and had the scholar's as well as the collector's love of books. She was unfortunately deaf, and although not unsocial, found among books the chief occupation of her life. Dibdin refers to her as being "at the head of all female collectors in Europe" (Reminiscences, ii. 949). She was an intimate friend of Richard Heber, and gossip whispered that there was once some likelihood of a marriage between them. It was believed she had intended her library to remain as an heirloom at Eshton Hall, but the principal part was sold by Messrs. Sotheby in August 1862. The sale produced nearly 6,000 pounds. (Wikipedia).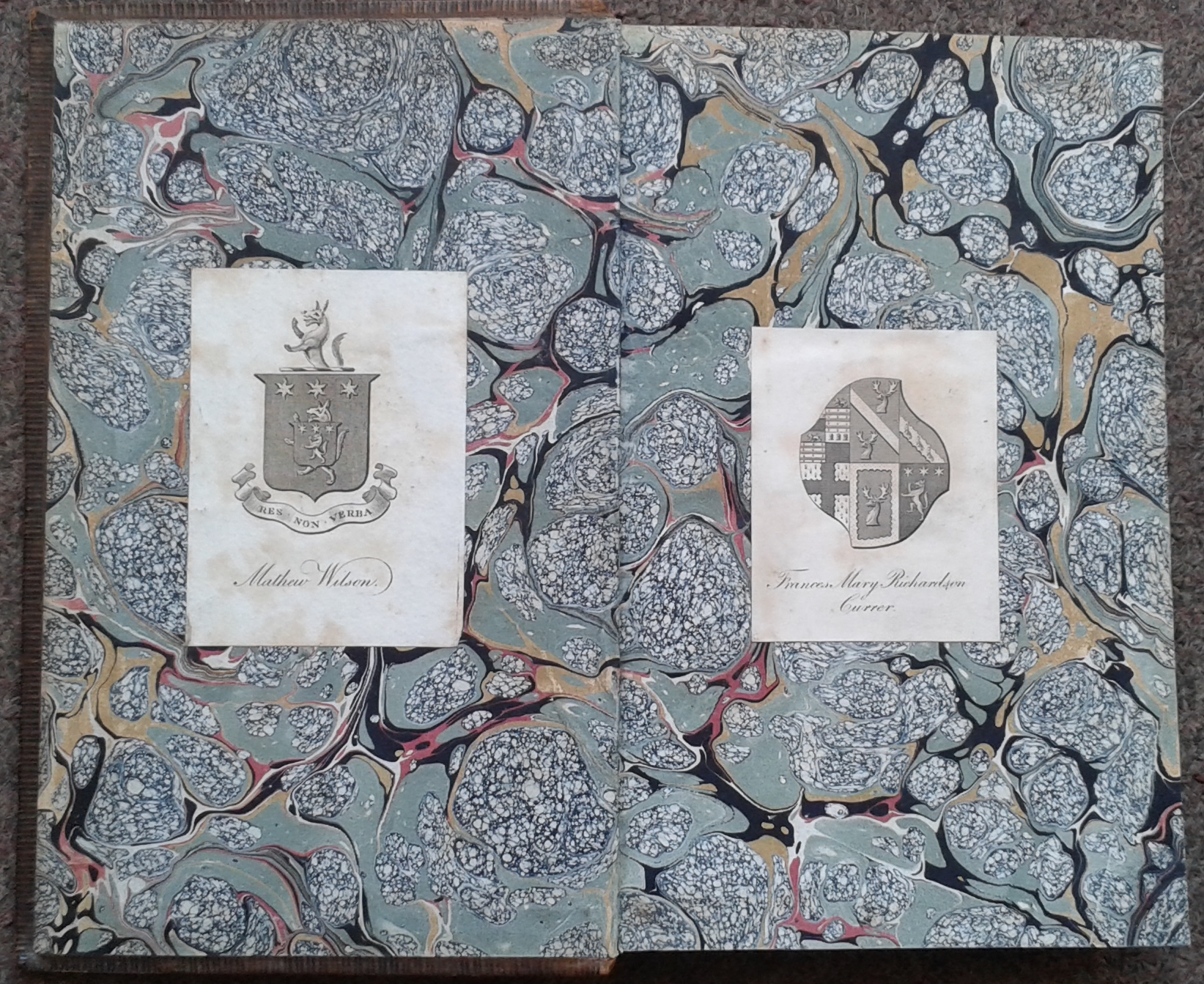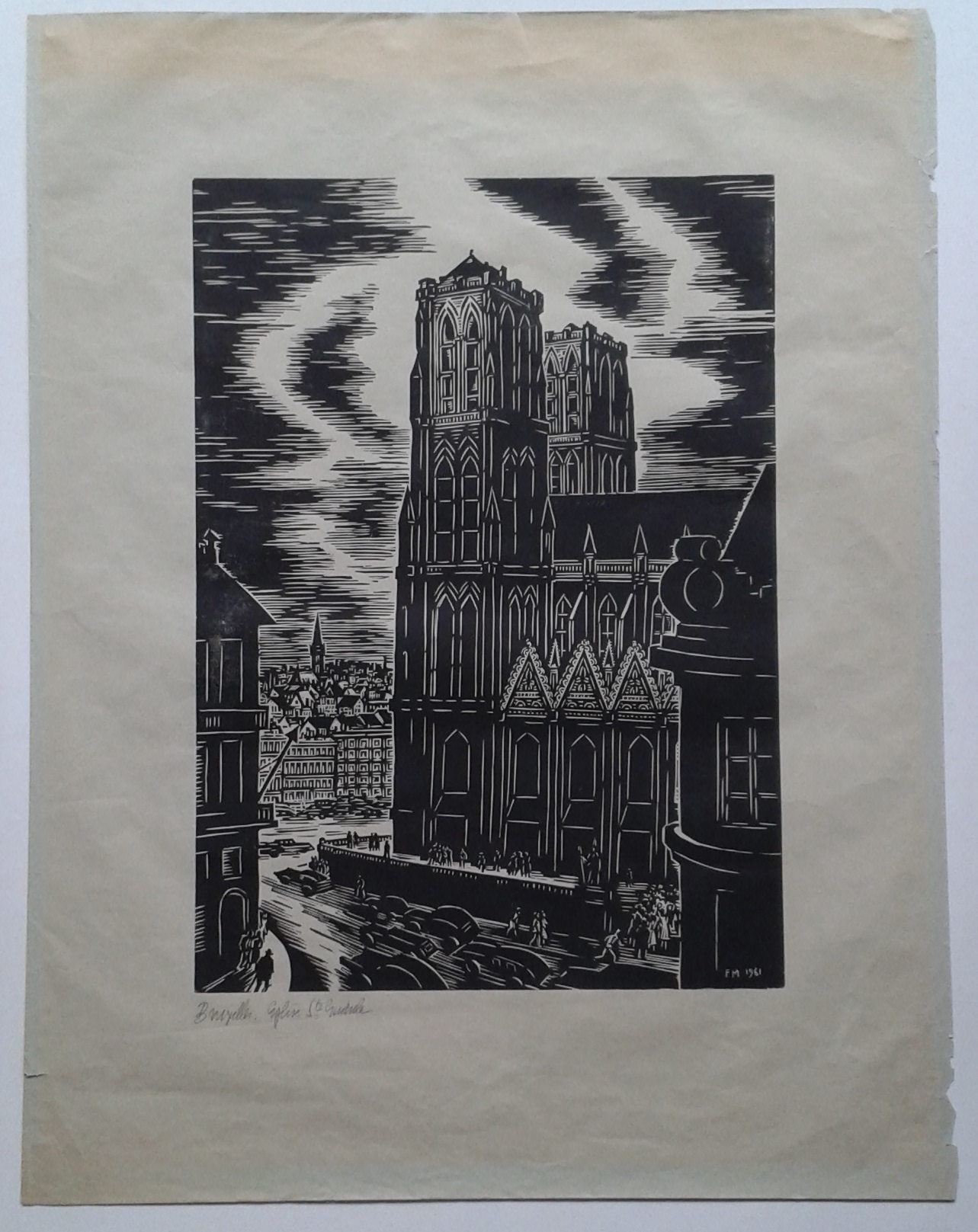 Eglise Ste Gudule, Bruxelles. Woodcut by Frans Masereel, 1961. Image size 320mm by 450mm. GBP175.00

Masereel (Blankenberge, 1889-1972), studied in Ghent at the Ecole des Beaux-Arts under Jean Delvin.
His woodcuts were mainly sociocritical and expressionistic, and his wordless novels were a major influence on Lynd Ward and more modern graphic novelists.



To find the shop click here.

Visit my stand at forthcoming Book Fairs.



Or search our inventory on Abebooks here





News| Events| Links| Contact Me| Vintage Posters | Bindings



The Blue Vanguard Jazz Club